Team FXJ: Amanda
Tweet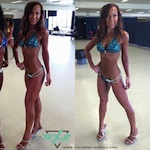 "I have been on a much more healthier lifestyle for the last 10 years, with a combination of eating clean, exercising , and weight training with different programs online. But after so long, you just want more real results, which is why I decided to contact Jessica. She most definitely delivers real results! Jessica is extremely knowledgeable about diet and exercise, very understanding to all your doubts and fears, right on point with motivating chats, and inspiring quotes. Most of all, she is compassionate, and dedicated to her athletes. Man did I ever feel lucky to have her in my corner throughout this whole process of my first competition!"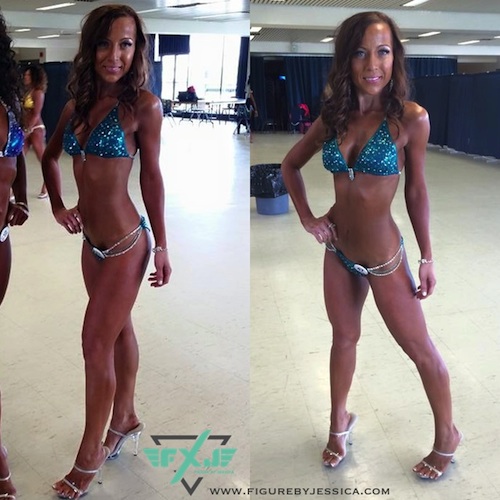 "I'll start off by saying that I do not have an athletic background. I am shy, and fall in the category of most women with self conscious insecurities, which is probably one of the reasons why I am sensitive to judgement. However, I have always been fascinated by the bodybuilding sport, how you can train muscle growth for strength and endurance. I have been on a much more healthier lifestyle for the last 10 years, with a combination of eating clean, exercising , and weight training with different programs online. But after so long, you just want more real results, which is why I decided to contact Jessica. She most definitely delivers real results!
Jessica is extremely knowledgeable about diet and exercise, very understanding to all your doubts and fears, right on point with motivating chats, and inspiring quotes. Most of all, she is compassionate, and dedicated to her athletes. Man did I ever feel lucky to have her in my corner throughout this whole process of my first competition!
From my understanding, most athletes will start their prep 12-16 weeks before their show. I was already at the 13 week mark when I started, so I knew I had to hammer down with no excuses. I just kept my mind set, that the only person I was competing against would be myself, so for the next time, it would be me vs me.
In total from beginning of the prep to show date ( 13 weeks), I lost 16inches, 13.5 lbs, and 13% bodyfat. ( wow, that's the first time I had to sit down and figure it out! HOLY SMOKES JESS! )
There is no denying it, the prep was hard. In fact, it was the most physically, and mentally challenging things I have done. I was grasping at anything for motivation, and couldn't believe the inner strength that comes out when your at your weakest point ready to throw the towel in. It was an incredible feeling, pushing past some dark moments, and go solid right till the finish line. She said I would be in the best shape of my life by time I was done, and she wasn't kidding!
I was grateful to have participated in this sport. It looks intimidating, but all the athletes are very kind. I have a much higher amount of respect for the dedication the athletes put into this. Thanks Jess for taking me on, .Im looking forward to what the future has in store!

xoxo "

-Amanda


If you would like to sign up to receive my newsletter, please click here