Perfect Banana Protein Muffins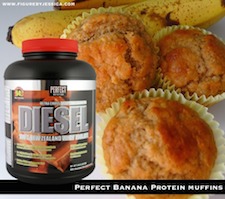 Delicious and protein packed, these banana muffins are awesome. Great for breakfast on the go or a post pump carb!!!
Perfect Banana Protein Muffins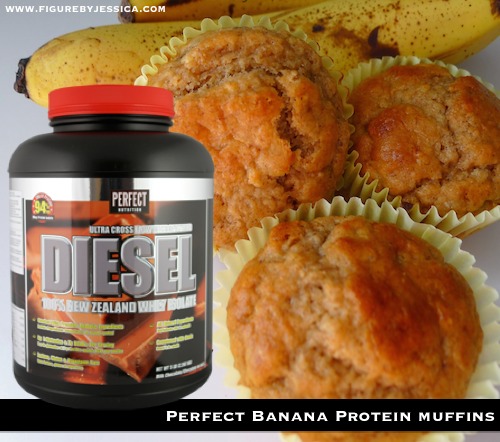 WHAT YOU'LL NEED:
3/4 cup Ripe banana (about 1 large banana) or banana baby food puree
3/4 cup Egg whites
1/2 cup Plain low fat greek yogurt
3/4 cup Oats (I grind mine into flour using a coffee grinder)
2 scoops Perfect Nutrition Diesel Whey Isolate "French Vanilla" Flavour
1/4 cup Baking stevia OR 1/4 cup sweetener of choice
3/4 cup Stevia Chocolate Chips
1 tsp Baking powder
1 tsp Baking soda
1/2 tsp Cinnamon

DIRECTIONS:
Preheat your oven to 350F
Mix all of your ingredients in a large mixing bowl then pour contents into a 12 portion muffin tin. Bake at 350F for 15-20 mins.
Remove from the tin and let cool. Top with my delicious, low-fat, protein packed "Perfect Peanut Butter Frosting"!!
Enjoy...

For a printable PDF version of this recipe, click here
If you would like to sign up to receive my newsletter, please click here


Check out some of these other great recipes...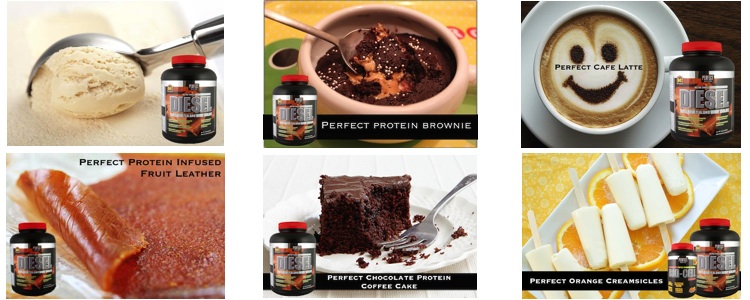 Also on FigureByJessica.com...