Perfect Chocolate Protein Coffee Cake
Tweet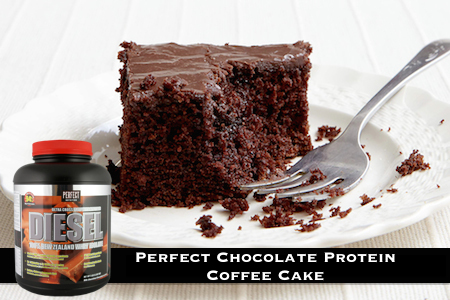 If you're serious about working out and chocolate, then let me offer you a slice of bodybuilding heaven!! I believe that I have perfected the ultimate bodybuilder's guilt-free, dream desert, the Perfect Chocolate Protein Coffee Cake tastes amazing and is packed with protein. Check out my Perfect Protein Peanut Butter Frosting recipe if you'd like to take this already amazing desert to the next level!

What you'll need:


3 scoops Perfect Nutrition Diesel Whey Isolate. I used 1 Banana, 1 Cookies and Cream, 1 Milk Chocolate.
1 tsp instant coffee
2 tbsp cocoa powder
1/2 cup Low Fat Greek Yogurt
1/2 cup unsweetened apple sauce
1/4 cup stevia
1/2 cup egg whites
3 tbsp coconut flour
1/2 tsp vanilla extract
3/4 cup stevia chocolate chips
1/2 tsp baking soda
1/2 tsp baking powder

Directions:

-Preheat your oven to 350F
-Combine all of the ingredients in a bowl and mix thoroughly. I usually mix up all of my "wet" ingredients and then add the "dry" ones. I find this helps create a nice, uniform mixture.
-Coat a 12 x 12 baking dish with coconut oil and then transfer the mixture to the dish
-Bake for 20-25 minutes
-Remove from oven, let cool, then top with my Perfect Protein Peanut Butter Frosting


If you would like to sign up to receive my newsletter, please click here


Check out some of these other great recipes...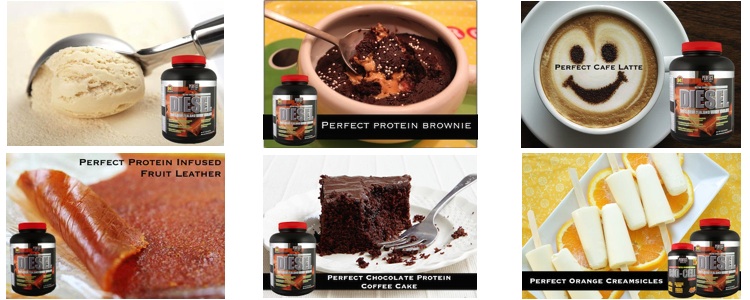 Also on FigureByJessica.com...