"I scream, you scream, protein, ice cream"...Chocolate Macaroon
Tweet
I've been experimenting with some protein ice cream recipes over the past couple of weeks, incorporating different flavour combinations of Perfect Nutrition Diesel Whey Isolate, and I'm ready to give you the scoop.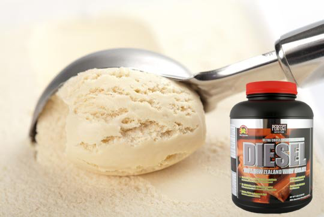 I always use Diesel Protein Powder in my ice cream recipes because it mixes completely and always tastes amazing. I also use Greek Yogurt as a secondary source of protein and as an ingredient which provides most of the creamy texture. I've developed quite a few flavour combinations that I'm very happy with, these include; Milk Chocolate, Strawberry Banana, Chocolate Macaroon, Chocolate Peanut Butter Cup, and Pineapple Mango Gelato.
Today I'm going to share my Chocolate Macaroon Recipe.
What You'll Need:

1 Scoop Milk Chocolate Diesel Whey Isolate
2-3 Tablespoons 0% Greek Yogurt
2 Tbsp unsweetened Vanilla or Chocolate Almond Milk
2 Tbsp Stevia (sweeten to taste)
1/2 tbsp of melted extra virgin coconut butter
1 heaping tbsp of unsweetened coconut flakes (optional)
Mix all ingredients into a smooth consistency, cover, and freeze. To make your ice cream into a soft serve, you will need to stir every 30min to an hour. Should be ready to eat in 4 hrs!!
Nutritional Information:


231 Calories, 2g Carbs, 11g Fat, 29g Protein
Stay Tuned for my next Protein Ice Cream Flavour, "Strawberry Banana"...(my daughter's favourite)


Check out some of these other great recipes...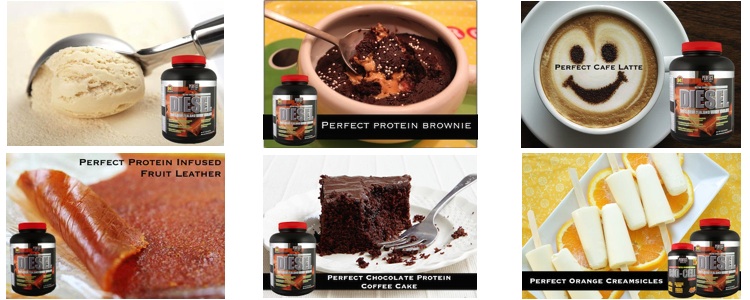 Also on FigureByJessica.com...