Perfect Protein Blueberry Muffins

Tweet


Blueberries are in season so it's time to do some baking with this anti-oxidant, vitamin rich, super food!! One of my favourite, protein packed, blueberry recipes is my Perfect Protein Blueberry Muffins made with freshly picked berries and, as always, Perfect Nutrition's Vanilla Flavoured Diesel Whey Isolate.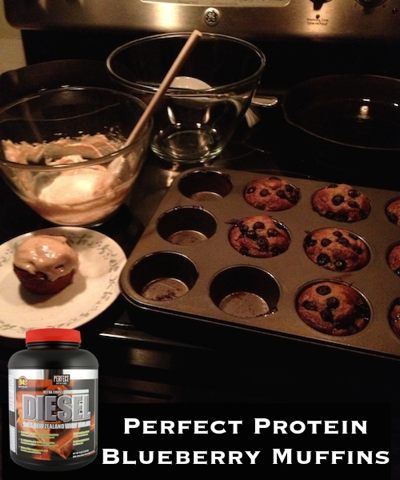 INGREDIENTS:
11/4 cup oatmeal flour (quick oats ground in food processor)
3 egg whites
½ cup Greek Yogurt
1 cup unsweetened applesauce
1 tablespoon honey (optional)
1/4 cup baking stevia
1 teaspoon vanilla extract
1 medium banana, peeled and mashed
3 scoops Perfect Nutrition Diesel Vanilla Whey Protein Powder
1 teaspoon cinnamon
1½ teaspoon baking powder
½ teaspoon baking soda
1 cup fresh organic blueberries or frozen blueberries
INSTRUCTIONS:

Preheat your oven to 350°
Spray your muffin tin with oil or cooking spray (I use coconut oil)
In a large bowl combine your wet ingredients including, egg whites, yogurt, applesauce, honey, vanilla extract and mashed banana.
In a second bowl combine your dry ingredients, oatmeal flour, vanilla whey protein powder, cinnamon, baking powder, and baking soda
Combine flour mix and egg mix together until smooth.
Fill your muffins tins
Place approximately 8 plump blueberries on top spreading evenly over top of each filled muffin batter, letting them rest on top of the batter.
Bake for 20 minutes.
Let cool, then top with my
Low Fat Blueberry Protein Frosting
Enjoy
For a printable PDF version of this recipe,
click here
If you would like to sign up to receive my newsletter, please
click here
Check out some of these other great recipes...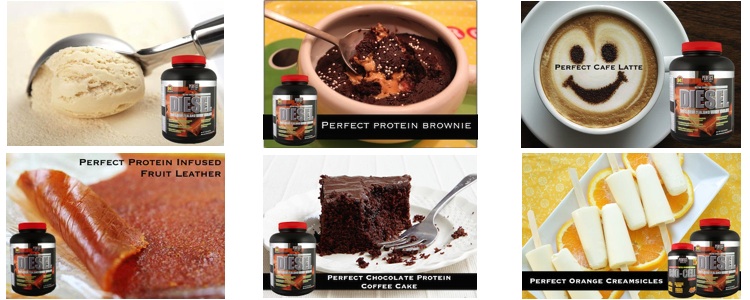 Also on FigureByJessica.com...