Team FXJ: Julie
Tweet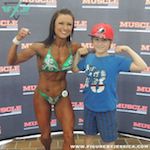 "On May 23rd, I successfully competed in the Sudbury Classic Bodybuilding Championships earning 1st place in Figure 2. I want to highlight the word successful. I am a very strong believer that success is not gained by earning a trophy or medal (that is just bonus or should I say icing on the cake), success is so much more. I am successful because I found balance in all aspects of my life. I set aside 135 days of contest preparation that I was fully committed to while balancing various life commitments and embracing the process."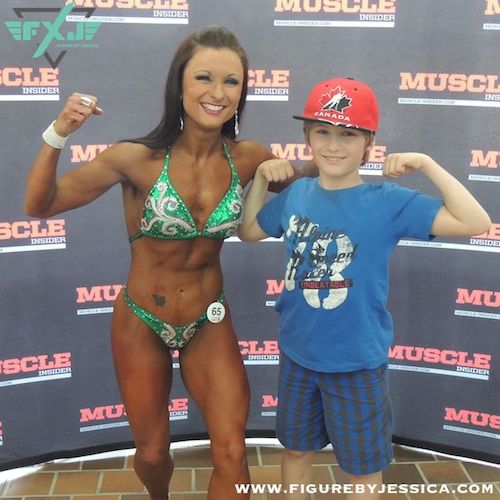 Finding Balance through Contest Prep!
"I remember asking myself after the birth of my second child how I was going to lose the weight I gained during pregnancy. I didn't want to use the excuse that the extra weight I was carrying was from having a child, so I joined a gym in an effort to fit into my favourite pre pregnancy jeans. After a few short months of hard work and training, I fit into those jeans; I had reached my goal and I was very proud of my accomplishment! I then set a new goal and decided to compete in my first Figure show in May 2012 alongside Jessica MacMillan. Jessica's incredible physique inspired me to keep working towards improvement and I competed in a second show in September 2013.
In December 2014, I reached out to Jessica to see if she would take me on as a client of her Figure by Jessica team. We met in late December for a consultation and on January 1st 2015, I started my program to kick-off getting me ready for the Sudbury Classic Bodybuilding Championships held on May 23rd 2015. Jessica designed a program that specifically targeted developing my weaker body parts and her knowledge assisted me in bringing my best physique to stage.
On May 23rd, I successfully competed in the Sudbury Classic Bodybuilding Championships earning 1st place in Figure 2. I want to highlight the word successful. I am a very strong believer that success is not gained by earning a trophy or medal (that is just bonus or should I say icing on the cake), success is so much more. I am successful because I found balance in all aspects of my life. I set aside 135 days of contest preparation that I was fully committed to while balancing various life commitments and embracing the process. I am a proud public servant of the Province of Ontario, a loving wife, mother of two children and the head coach of a Novice Hockey Team.
Competing also provides a sense of joy as I am surrounded by a group of OPA athletes who work hard, are fully committed and focused. The preparation to get to stage often poses its challenges mentally as athletes may doubt their abilities; even though I am competitive, I support my competitors, treat them with respect and always display energy and a positive attitude. That's what this sport is all about, surrounding yourself with positive influences and growing personally!
In addition, through preparation I gained a wealth of knowledge which I proudly share with my children regarding healthy eating, strength training, physical activity and all of its benefits. I am a role model who demonstrates a strong work ethic, never gives up and the end result is very rewarding. My son Connor attended my competition and was loudly cheering for his momma. What an incredible experience!
Over the next year, I will work with Jessica to bring a new improved physique to the Provincial Stage in June 2016. I am excited and thrilled to have the opportunity to step on the big stage!"
-Julie


If you would like to sign up to receive my newsletter, please click here