06/01/15 13:21
Tweet
Mike Strickland has been a real inspiration here at figurebyjessica.com over the past year. His amazing fat loss and subsequent muscle gain has been simply amazing. Mike's original story was featured in an earlier FXJ blog entry titled,
"Congratulations to Mike Strickland!!! Amazing Fat Loss"
which outlined his one year journey to shed 80lbs of unwanted body fat. This second entry talks about his entry in the "Project Big Boy" Program and his subsequent muscular gains.
Read More...
02/12/14 16:38
Tweet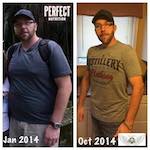 2014 was an amazing year for Mike Strickland who lost over 80lbs by exercising on a regular basis and supplementing his diet using a variety of Perfect Nutrition products that I suggested he try. His transformation has been incredible and I am very proud of him. Read Mike's first hand testimonial by clicking the
Read More
link.

Read More...